Tuner for M802 & M803
When connected to the M802 or M803, the AT-140 automatically bypasses e-mail and shortwave listening, the AT-140 allows use of the entire antenna for best reception. Get fast frequency access without missing communication opportunities! The AT-140 comes ready for simple antenna cable and power connections. Install the unit near the antenna element base.
Features:


Completely weather-resistant acrylic case with rubber gaskets
45 memories for shorter tuning times
Quick Low power tune-up
Pre-wired cable connection points, just plug and play
Dimensions: 230 (w) x 340 (H) x 80 (D) mm
Antenna connector: SO-239
Max. Input Power: 150 W (PEP) 100 W (continuous)
Automatic tuning time: Approx 2-3 seconds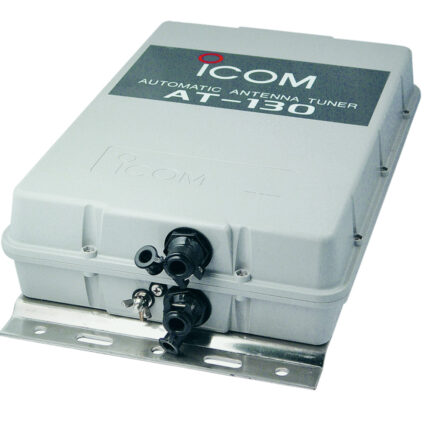 HF Automatic Antenna TunerTune in your HF marine worldSuitable for many vessels
The versatile AT-130 can be used with a variety of vessels, even smaller boats that cannot use a long antenna element. For example, the AT-130 will match a 7 m (23 feet) long wire antenna across the marine band in the 1.6 - 27.5 MHz range.
Automatic tuning
No manual tuning is needed. Just push the [TUNE] switch on an Icom HF marine transceiver; the AT-130 adjusts the antenna and the transceiver to the minimum SWR in any frequency on an HF marine band. The AT-130 allows you to transmit with strong RF output power, and is perfect for maritime mobile operations.
Weather resistant
The AT-130 is housed in a durable, completely weather-resistant acrylic case with rubber gaskets. This allows it to be conveniently installed near the antenna element base.
For Icom HF marine transceivers
Icom's sophisticated AT-130 easily matches Icom HF marine transceivers. The AT-130 easily interconnects with an Icom HF marine transceiver. AT-130 installation is simple. No adjustments are necessary. Just connect the control cable and antenna wire and go!
Quick tune-up
Improved tuning performance...the tune-up time is less than 3 seconds in any frequency on an HF marine band. In addition, the AT-130 has 8 convenient memories to store tuning information. Retuning for a memorized frequency takes about 1.5 seconds. This allows you quick trouble-free frequency changes.
Low power tune-up
The AT-130 emits very little output power (just 300 mW) during the tuning process. This reduces the possibility of causing interference to other stations using the frequency.
Specifications
Dimensions: 230(W) x 340(H) x 80(D) mm; 9.1(W) x 13.4(H) x 3.1(D) in (projections not included)

Weight: 2.7 kg; 6.0 lb

Usable Temperature Range: -30C ~ +60C

Rated Voltage: 13.6 V DC +/-15% (negative ground) (supplied from an Icom HF marine transceiver)

Current Drain (at 13.6 V DC): 2 A

Frequency Coverage: 1.6~30 MHz (with the antenna length 7 m (23 ft) or longer)

Input Impedance: 50 ohms (unbalanced)

Max. Input Power: 150 W (PEP)

Input Power During Tuning: 10 W

Auto Tuning Time: 1.5 sec. (returning for a memorized frequency), typically 2~3 sec. (when operating band has been changed)

Auto Tuning Accuracy: VSWR 2.0:1

Insertion Loss: 0.5 dB (with a 50 ohms load, after tuning)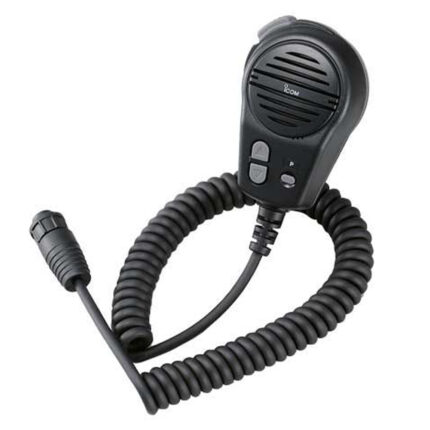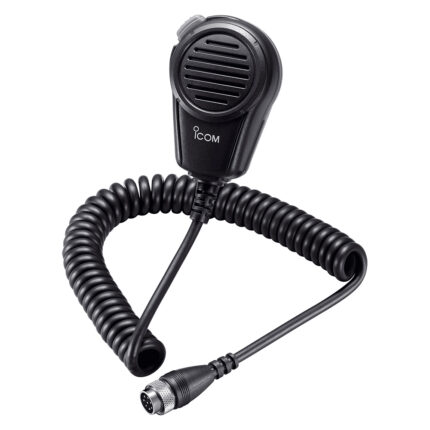 HM180 Replacement Mic for M710 & M700 Pro
Icom HM180 Microphone Repalcement specifically for Icom's M710 and M700 Pro.
M803 Recreational SSB Radio
The M803 is the long range digital communication radio for any cruiser. Reach both marine and ham frequencies with the Class E DSC MF/HF certification. It is packed with features to keep users safe such as a distress call button, audio replay, GPS and more. The intuitive interface of the color TFT display and the similarity of the user interface of the M605 allows for easy operation between the two radios. The M803 also includes an advanced RF direct simple sampling system that improves higher receiver sensitivity and higher quality audio.
Features:
Output Power: 150W
Frequencies: 0.5-29.99 MHz
Channels: 830 (160 programmable, 72 ITU SSN duplex, 249 ITU SSB simplex, 193 ITU FSK duplex, 160 email)
Waterproof: IPX7 (conotroller only)
GPS: Built-in
Users will like the large 4.3" wide viewing angle color TFT display. Clearly see the high resolution display icons on the LCD screen from numerous positions with the nearly 180 degree wide viewing angle, which provides various installation placement possibilities. The night mode display offers readability in low-light conditions.
Intuitive User Interface
Smoothly operate and sail with the M803's large main dial and keys to access functions such as accessing MMSI numbers, vessel numbers, and channels with the full alpha-numeric keypad. Assign one of the software key functions to the microphone's programmable button for quick access. Additionally the head unit offers programmable keys for customizable access.
Emergency Distress Button
The M803's big and easily identifiable emergency distress button is encased in a spring loaded cover. Once pressed a digital distress signal is sent with GPS coordinates and calls for help to other ships or coast stations. The GPS receiver offers GPS, GLONASS, SBAS, position data, speed and UTC data when using the supplied GPS antenna. Position data may be output from the NMEA 0183 port for use with other devices.
Dedicated DSC Scanning
The dedicated DSC watch-keeping receiver continuously scans the six distress channels in rotation. If you are in process with a DSC call and receive another call, the M803 can switch between calls with the Multiple Task Mode function. 100 MMSI numbers (75 individual/25 group) for DSC calls can be stored with a 10-character name.
Two Minute Memory Instant Replay Memory
The Instant Replay Function allows users to replay up to two minutes of previous conversations or calls. The function constantly loops and records over older audio.
Additional Features:
NMEA 0183 Version 4.10 data input/output (4800-38400 bps)
HF email operation with frequency, mode and bandwidth memorization*
*Consult with an HF email provider for details