All-Black Deluxe Megaphone w/Siren - 15W
Features:
15W Deluxe Megaphone
Built-in selectable electronics alarm siren
Volume control
Includes carrying strap
All-black, tactical appearance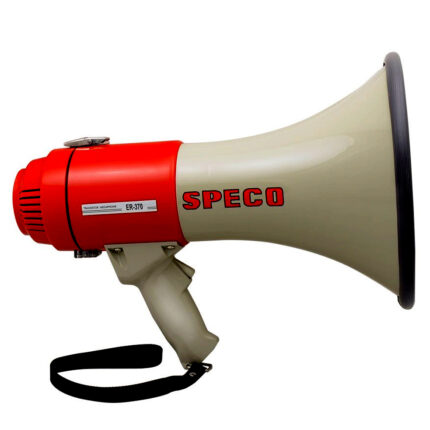 Deluxe Megaphone with Siren - Red/Grey - 16W
Our 16 watt deluxe megaphone features a built-in switch selectable electronic alarm siren, pistol grip, press to talk switch, volume control, and shoulder strap. It is weatherproof. It uses eight C-batteries, which are not included.
Specifications
Wattage 16W Max.

Effective 800 feet

Powerful solid state megaphone

Built-in switch selectable electronic alarm siren

Pistol grip

Press-to-talk switch

Volume control

Shoulder strap

Durable weatherproof construction

Operates on 8 "C" cells (not supplied)

9.1" Bell Diameter x 14.25" Long

3lbs, 4oz w/o batteries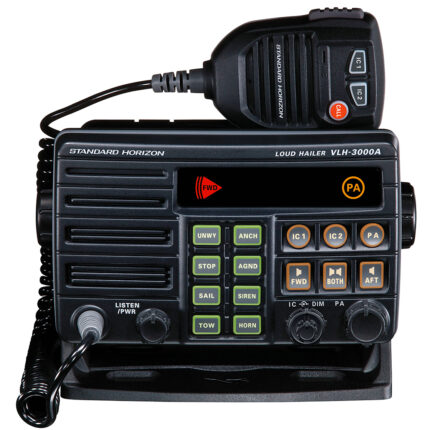 VLH-3000A 30W Dual Zone PA/Loud Hailer/Fog w/Listen Back & 2 Optional Intercom StationsFeatures:
30W PA/Hailer output with Listen Back

Dual Zone - Forward, Aft or Both

6 Preprogrammed Fog Signals: Underway, Stop, Sail, Tow, Anchor and Aground

Horn and Siren

Noise canceling microphone with dedicated CALL, IC1 and IC2 keys

Compatible with MLS-300 and MLS-310 (10W amplified) external audio speakers

Compatible with optional MLS-300i intercom speaker with Push-to Alert button for IC1 and IC2

Flush Mount capable with optional MMB-84

Adjustable Backlight

3 Year Waterproof Warranty