Hunting Accessories,Camping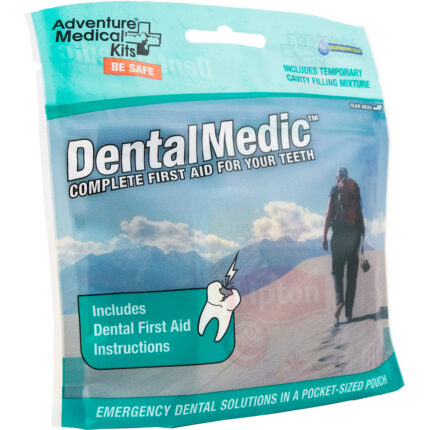 Dental Medic
Nothing brings a person to their knees like a dental emergency, whether it is an infection, a lost filling, or a fractured tooth. The Dental Medic contains the essentials for treating dental pain and injury when a dentist isn't available. The Dental Medic contains basic supplies like floss, cotton, and oral aesthetic to more advanced components such as temporary cavity filling mixture and dental wax.
This kit is a must have for any trip where access to a dentist may be hours or days away. Each kit in the Medic series features proprietary DryFlex™ bags for the ultimate in ultralight, waterproof storage.
Features:
Ultralight, Waterproof, and Pocket-Sized DryFlex™ bag weighs next to nothing, fits just about anywhere, and keep water out of your kit.
Replace Fillings and Crowns with temporary cavity filling mixture. Protects your tooth until you can find a dentist.
Stop Tooth Pain with Orasol gel and tural tea (tannins) soothe pain in the teeth and gums.
Specialized instructions explain how to manage various dental emergencies.
Kit Details:
Size: 5" x 5.25" x 1"
Weight: 3.5 oz.
Group Size: 1 Person
Trip Duration: Single Use
Dental Supplies:
1 - Dental Wax Temporary Filling
1 - Temporary Cavity Filling Mixture
5 - Cotton Pellets
5 - Cotton Rolls
1 - Dental Floss
3 - Tooth Picks
Pain Relief:
1 - Tea Bag, 100% Natural Pekoe Tea
2 - Anbesol/Orasol, Benzocaine 20%, 75g
Instructions:
1 - Dental First Aid Instructions
We reserve the right to add, substitute, or delete items if necessary
Please note: Some medications may not be available in products sold outside of the US, additional items may be substituted.
*Sold as an Individual

WARNING: This product can expose you to chemicals which are known to the State of California to cause cancer, birth defects or other reproductive harm. For more information go to P65Warnings.ca.gov.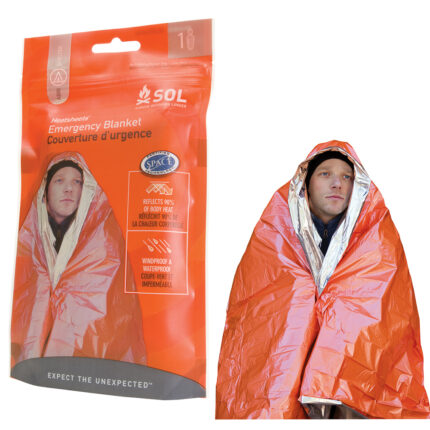 Emergency Blanket
The most advanced emergency blanket on the market - meticulously designed to never fail when you're counting on it with your life. It all starts with the material, vacuum-metalized polyethylene, that reflects 90% of your body heat while also offering a number of other important features that set it apart from traditional mylar blankets,
It opens easily and will not shred if nicked or punctured, rips and tears can be repaired, it is quiet and won't crinkle in high winds, and its high-visibility orange exterior makes it easy for rescuers to find you. Sized to fit one person.
Features:
Resists tearing and will not shred like Mylar blankets
Material is waterproof and windproof
Reflects 90% of radiated body heat
Can also be used as a ground cloth, gear cover, first aid blanket, and more
*Sold as an Individual