GPS - Handheld,Automotive/RV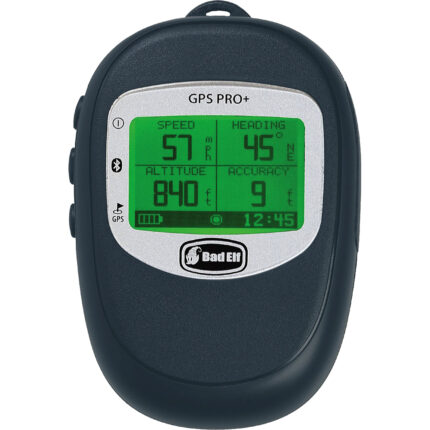 Bluetooth GPS Pro+
Includes: Bluetooth™ GPS + GLONASS Receiver with Barometric Sensor, USB File System Support and Streaming NMEA GPS Data Output
Be Adventurous - Explore the World
The original Bad Elf GPS Pro received rave reviews from the most demanding customers in military, commercial, andprivate aviation.
The GPS Pro+, adds GLONASS satellite capability, USB file system access to data logs, and a barometric sensor for altitude. This GPS receiver, with 24 hour battery life when paired over Bluetooth/35 Hour Battery - Stand Alone Data Logger and the capacity to log a full week on the road just got better.
Features:
Instantly add GPS location support to your iPad Wi-Fi or iPod touch devices via Bluetooth

Connect up to five device at once

View GPS+GLONASS status quickly with the backlit LCD

All day battery life - Pair Over Bluetooth - 24Hrs / Stand Alone Data Logger - 35Hrs

Log up to 200 hours of trip position data direct on your Bad Elf

Access your data logs directly from any PC or Mac using the included USB cable. GPS appears just like a USB thumb drive

USB connectivity to PC or Mac provides streaming NMEA GPS data

Obtain altitude from GPS and from the built-in barometer

High performance 66 channel GPS + GLONASS receiver that provides latitude, longitude, altitude, speed, and GPS track

Accurate to 2.5M (9') up to 60,000' and 1000 mph

Quickly acquires satellite lock without cell tower assistance - Hot start time in as little as 2 seconds

No internet connection or monthly subscription required

IPX4 water resistance makes this device ready for outdoors
Bad Elf GPS provides location data to any and all apps that use Apple's iOS Core Location framework.
Where To Use?
Aviation

Marine

Vehicle Navigation

Geocaching

Travel

Running

Cycling

Hiking

Stargazing

Racing
Specifications:
2.5M (9') positional accuracy with MTK chipset

66 channel GPS & GLONASS receiver

WAAS compatible, SBAS/EGNOSIMSAS support

Up to 10Hz sample rate

Lock times: 2s (hot). 1Ss (warm). 33s (cold)

Size: 3.0" x 2.4" x 0.7" / 76mm x 61mm x 18mm (HWD)

Weight: 3.2oz/91g - full package 6oz/170g
Made For:
iPod touch (1st, 2nd, 3rd, 4th, and 5th generation)

iPhone SS, iPhone SC, iPhone 5, iPhone 4S, and iPhone 4

iPad Air and iPad (1st, 2nd, 3rd, and 4th generation)

iPad mini and iPad mini with Retina display
In The Box:
Bad Elf GPS Pro+ Data Logger

3' (1M) mini-USB cable for charging

Car charger

User guide

Detachable lanyard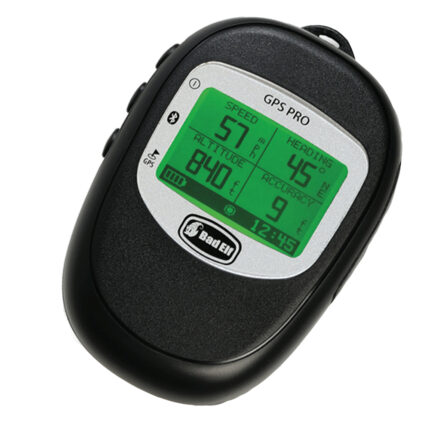 GPS Pro Bluetooth Data Logger
Next-Generation GPS Receiver & Datalogger for iPod touch, iPhone & iPad
The Bad Elf GPS Pro was designed specifically for pilots, boaters, and other outdoor enthusiasts based on feedback we've collected since we launched the original dock-connected Bad Elf GPS back in 2010. We didn't want to launch yet another generic external Bluetooth GPS receiver like those on the market today - so we're not. Instead, we packed a ton of great next-generation features into a small, rugged, and affordable package:
Connect Up To 5 Devices At A Time Via Bluetooth
The real-time GPS data from a single GPS Pro can be used by up to 5 devices simultaneously - any combination of supported iPad, iPhone, or iPod touch devices. This is great for:
Jet pilots: the entire crew can share the data from a single GPS Pro sitting on the glare shield or in the side window. Or share your GPS data with passengers in the cabin so they can follow the flight on their own iPads.
General aviation pilots: use your iPhone or iPod touch as a backup for charts on your iPad, switching instantly if needed without re-pairing or connecting.
Road trips: the whole family can share the GPS data from a single GPS Pro.
Large LCD Screen With Backlight
The GPS Pro features a large LCD screen with a backlight that provides great visibility day or night. See your location, speed, heading, altitude, and GPS lock status at a glance. No need to guess the meaning of blinking LED indicators or leave your favorite app to check the status of your GPS receiver.
Extra-Long Battery Life & 10Hz Reporting Rate
The GPS Pro provides a battery life of up to 16 hours when connected to your iOS device via Bluetooth, and supports a GPS reporting rate of 10 times per second (configurable). With the accessory in standalone datalogger mode and Bluetooth turned off, you can expect a battery life of up to 32 hours.
Standalone GPS Datalogger (100+ Hours)
Now you can record your adventures without draining the battery on your iPhone or iPod touch. No need to keep an app running, just start and stop the GPS Pro's datalogger using a simple button press. Discover something cool. Mark your current location as a point of interest (POI) with another button press. At the end of your activity, transfer the log to your iPhone, iPod touch, or iPad to view your trip and share it with friends and family via email, Facebook, or Twitter.
Rugged & Splash-Proof To IPX4 Standards
Don't be afraid to take your GPS Pro along on your next adventure. Compact, rugged, and splash-proof, the GPS Pro will survive the journey and let you show your friends just how amazing that trip was.
Package Contains:
BE-GPS-2200 GPS Pro device
3ft (90cm) Mini-USB cable for charging
12-24VDC vehicle USB charger
Detachable Neck Lanyard
User's Manual
Compatibility:
iPod touch (2nd, 3rd, & 4th generations)
All iPad and iPhones with Bluetooth
GPS Technical Specs:
Fast GPS lock times (45 seconds or less)
2.5-meter accuracy
60k feet maximum altitude
1000 MPH maximum speed
Up to 10Hz position update rate
66-channel MTK GPS chipset
SBAS/WAAS/EGNOS/MSAS
Specifications:
Mini-USB port for charging and ElfPort expansion
128 x 96 dot LCD screen with backlight
100+ hour datalogger memory
Upgradeable Firmware
Dimensions: 3" x 2.4" x 0.7" (76.5mm x 61.5mm x 17.5mm)
Weight: 3.2 oz (90 grams)